Facing your fears and stepping into the muddy unknown. They say charity begins at home and so it does for our Trustee, Helen Syms, who is bravely venturing from her comfort zone and into a world of mud and obstacles, all in aid of the Marfan Trust. Helen is taking on the Nuts Challenge, a five-mile obstacle race that promises to be cold, wet and …. Muddy!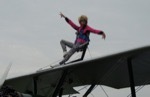 "What have I let myself in for now... this is very muddy, wet and cold, and puts me right out of my comfort zone.... which is why I'm doing it! I've done many crazy fundraising events before such as wingwalking (pictured) but this is something else, not a natural choice for me as I really don't like cold or wet, so this really does feel like a big challenge which I am taking on with a group of friends."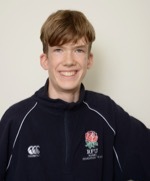 "My amazing son Matt had Marfan syndrome and passed away in 2017 after catastrophic complications from a planned corrective heart surgery. I am now a trustee of the charity to contribute to the efforts, supporting families, spreading awareness and education, and conducting life saving medical research."
Helen came to The Marfan Trust through the experience of her son. His was a first occurrence of the condition in the family, diagnosed age eight, and an acute presentation in the primary symptom areas of cardiac, skeletal and ocular issues. Management of the condition involved regular hospital appointments in each of the specialist areas and a necessity to be familiar and fluent in describing and discussing the condition with medical and educational professionals and others. Her son passed away in 2017 age seventeen after complications from scheduled cardiac surgery, and this whole experience has strengthened Helen's support for the Marfan cause.
Helen's JustGiving page is here!