Stuart recently contacted our Helpline with the story of his unique pilgrimage. His pilgrimage to the birthplace of his (and our!) syndrome's namesake, Professeur Dr Antoine Marfan. Through the skill of the surgeon, Stuart is living a productive (two sons, seven grandchildren and counting), eventful and globe-trotting life. And he recently felt compelled to 'pay homage' to the man who first described his condition. Thank you, Stuart, for sending us your uplifting story in time for the long, leisurely (hopefully sunny, not snowy) Easter Weekend!
---
Almost three years ago I drove down to the South of France, over the Millau Viaduct (the tallest bridge in the world) and on to the town of Castelnaudary. This was the birthplace of Prof Dr Marfan and as one with his syndrome I wanted to walk the length of Rue Marfan.
So on 4th May 2018 I started at the top of the street where Rue Marfan joins Rue Pasteur - two famous doctors commemorated at once! I nabbed a passing French lady who was happy to take my picture under the street sign, 2 Rue Marfan.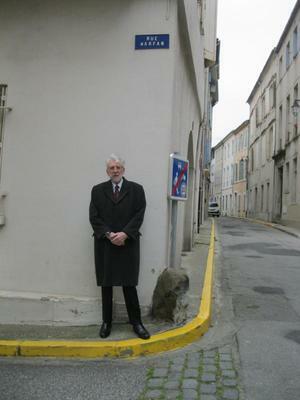 Walking down to an open square I found a "volunteer" French man to take my picture under another street sign, having explained why I wanted him to do so. After doing this he said "Have you seen his house?" I replied I didn't even know about it so he said "Come with me" and led me literally round the corner into Rue du Palais de Justice and a few yards up to number 6 . Sure enough there were two plaques on the wall commemorating Prof Dr Marfan. I had my picture taken at 5 Chez Dr Marfan (see image) which proved to be a surprisingly emotional moment.

Here's a link to Google Maps which will allow you to see where I was.
---
I trust this may be of interest to you. I was only diagnosed with Marfan Syndrome in my late 30's and required an aortic root repair at age 40 in 1987. I was fitted with a Dacron ascending aorta with integral Shiley Monostrut mechanical valve. The day before my operation Mr Lawson appeared at the foot of my bed whilst I was having breakfast. His right eyebrow lifted a few millimetres and he said "Sugar on the porridge, Mr Hatch?" which is, of course, anathema to the Scots. I had no defence and could only blush.

On returning to the ward after the op I had a bout of vomiting. On his rounds he said "I hear you've been sick, Mr Hatch". "Yes, Sir" I said, "Sugar on the porridge ..."
---
I have been greatly blessed by being able to see my two sons mature, marry and produce seven grandchildren (so far) between them. I am anxious that others living with Marfan Syndrome (either directly or via a relative) should know that a full life is possible with the condition and even after major surgery. After a trip to the continent in 2013, I caught the travel bug and am often on an overseas adventure. I do it because, by the grace of God and the skill of the surgeon, I CAN.