Equal parts heart-breaking and heart-warming, Tom's tragically short time with Chloe is a beautiful story of love and loss. Chloe was tall and fragile, talented and determined. She and Tom shared "an unburstable bubble".
by Tom Dart
We met in the summer of 2017, having made a connection on a dating site through our shared love of music and the bands we both admired. On our first date, I met Chloe and her faithful Patterdale Terrier, Spud, for a walk in Woolacombe. Chloe told me about her job, her passion – painting as an artist in a local studio. She told me about her band, "Supenik", and the gigs they had played around the UK and on tour in Holland. It was obvious to everyone, except possibly Chloe, that she was an incredibly talented and special woman.
Chloe told me about her diagnosis of Marfan Syndrome at an early point in our relationship. "It's not as bad for me as it is for some people", she said, probably anticipating that I would google it when I got home and see the clinical terminology and be scared off. From my perspective, Chloe was tall, elegant, unique, beautiful and, in a way, fragile.
Chloe had a descending aortic dissection in December 2017. She was taken into hospital and the decision at the time was to manage her health with medication. Then, in February 2018, Chloe went to Bristol to have part of her descending aorta repaired. After the surgery, Chloe was told she was a "tearer" - at high risk of further dissections – and would need to have more frequent checks-ups.
Despite this experience, or maybe because of it, we became inseparable and whole-heartedly decided to move in together. Chloe became part of my family and I was welcomed into hers. We travelled; Scotland, America, Cornwall. We supported and entertained each other through the various lock downs in 2020/21. In September of 2020 we got married with a few of our closest friends and family present. Chloe's brother, Joel, beautifully sang the theme to the detectorists. We honeymooned in Dorset. Our bubble was un-burstable.
About a year after we'd bought our house together in Combe Martin, Chloe had a routine scan and it was noticed that her descending aorta had become enlarged below the previous repair. The cardiac team decided that Chloe would need a total replacement of her aorta.
After some careful thought, we decided it was worthwhile so we could continue to enjoy our lives together and be worry-free for longer. Chloe went in for the surgery in Bristol on October 9th, 2022.
Six weeks after the surgery, while recovering in Exeter RD&E, Chloe unexpectedly experienced a complete dissection of her ascending aorta. This required complicated and risky emergency surgery back in Bristol. Chloe fought to recover with remarkable resilience, but the two major surgeries took too great a toll.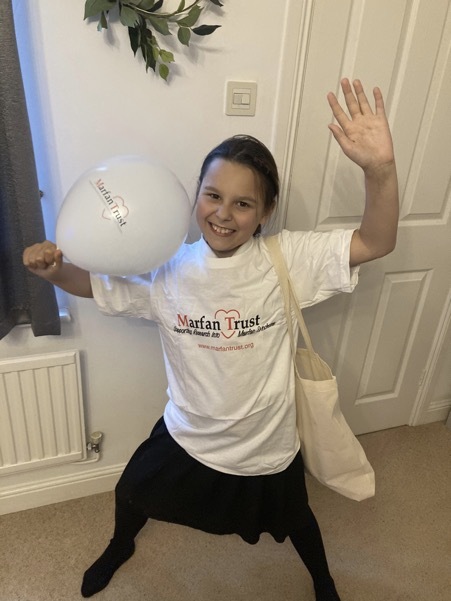 Between myself and her dedicated, loving and determined parents and brother, Chloe wasn't alone, and we were at her side when she died on the 5th January 2023 in Bristol CICU.
Although the sadness and sense of loss will likely never leave us, neither will Chloe's enduring spirit of selflessness, determination, kindness and love.
My niece, Belle, is proof of this as she is raising money for the Marfan Trust by walking 13 miles along the North Devon coast, from Woolacombe to Combe Martin. So far, she has raised an incredible £350 and hopes that the money will go towards helping the Marfan Trust continue to raise awareness and complete essential research on the condition.