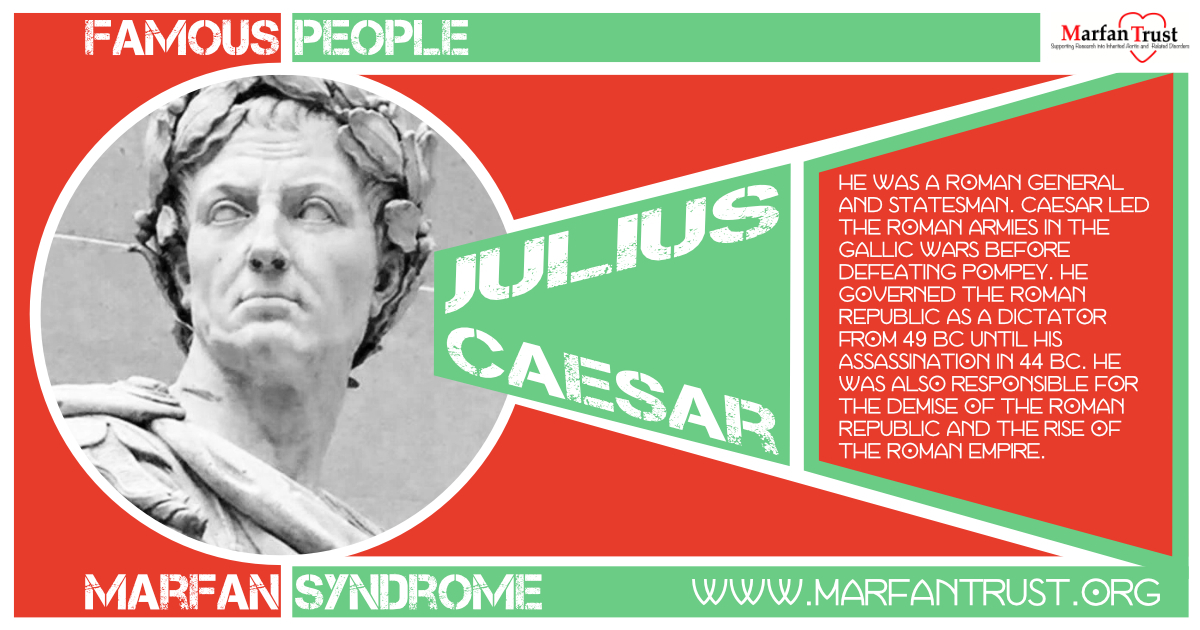 JULIUS CAESAR
Crafty dictator, inveterate womaniser, influential reformer. He changed the course of history and altered the passage of time. As Master of War and Father of the Leap Year, Julius Caesar left a legacy that is felt across millennia while his name has been etched into linguistic posterity through salads, casinos and surgical procedures. Much is known of the man who famously died on the Ides of March in 44 BC, yet much remains unknown. Did this divisive figure with his long slender limbs have Marfan syndrome. What do you think?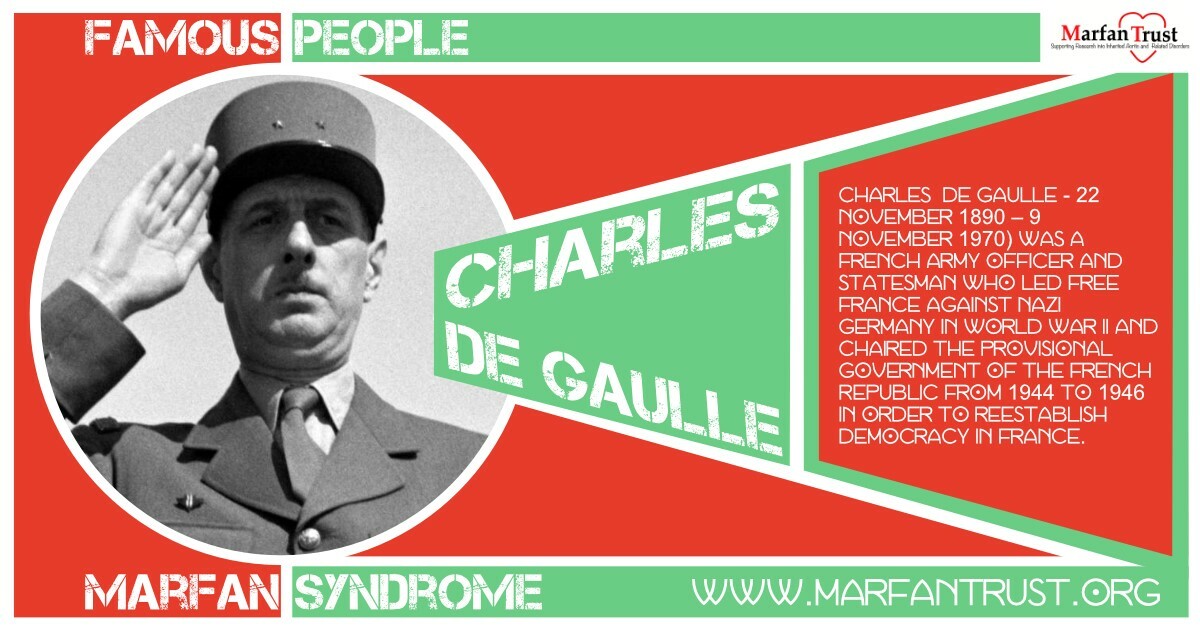 CHARLES de GAULLE
A tall awkward man, Charles de Gaulle left a lasting political legacy. Tenacious leader of the Free French Forces during World War Two, he cuts a singular figure in the black-and-white wartime footage. Whether inspecting his Navy or walking alongside Winston Churchill, he stands out, literally. It was a little-known fact that this heroic leader, once described as the "embodiment of France", had Marfan syndrome. It remained a family secret until only recently! Vive La France!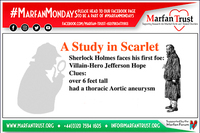 JEFFERSON HOPE
In his first literary outing, Sherlock Holmes deployed his theory of deduction to unravel a mystery that had crossed continents. A Study in Scarlet introduced Holmes to the world, pitting his forensic reasoning against the revenge-fuelled murderous antics of sympathetic baddie Jefferson Hope.
Sir Arthur Conan Doyle was a physician, and famously clinical in his descriptions of his characters, creating in Jefferson Hope a physically vivid villain of tall stature, ruddy complexion with susceptibility to epistaxis. Hope also suffered a thoracic aortic aneurysm. Did Jefferson Hope have Marfan Syndrome, we wonder?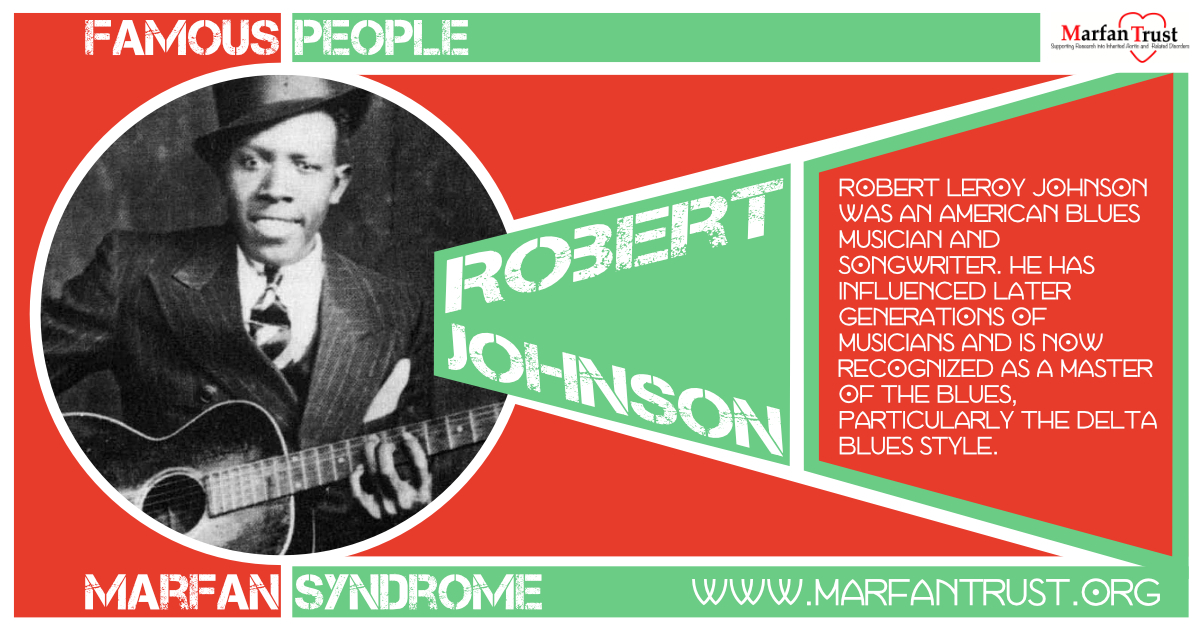 ROBERT JOHNSON
His influence is felt down the decades and heard in the distinctive technique of guitarist Eric Clapton. Robert Johnson was a musician and songwriter, now dubbed the master of blues. He lived a restless, itinerant life playing variously on street corners, in juke joints and at dance halls until his sudden death in 1938 at 27, possibly from undiagnosed MFS. Enjoying little renown when alive, he became in death a hallowed figure after the reissue of his recordings in 1961 took his work to a wider audience and ignited his reputation as one of the greatest guitarists who ever lived. Yet documented facts on his life remain scarce and his death remains steeped in rumour. However, in 2006 a physician tentatively 'diagnosed' Marfan syndrome, after spotting from a photograph Johnson's preternaturally long fingers which conferred such navigational prowess on his guitar.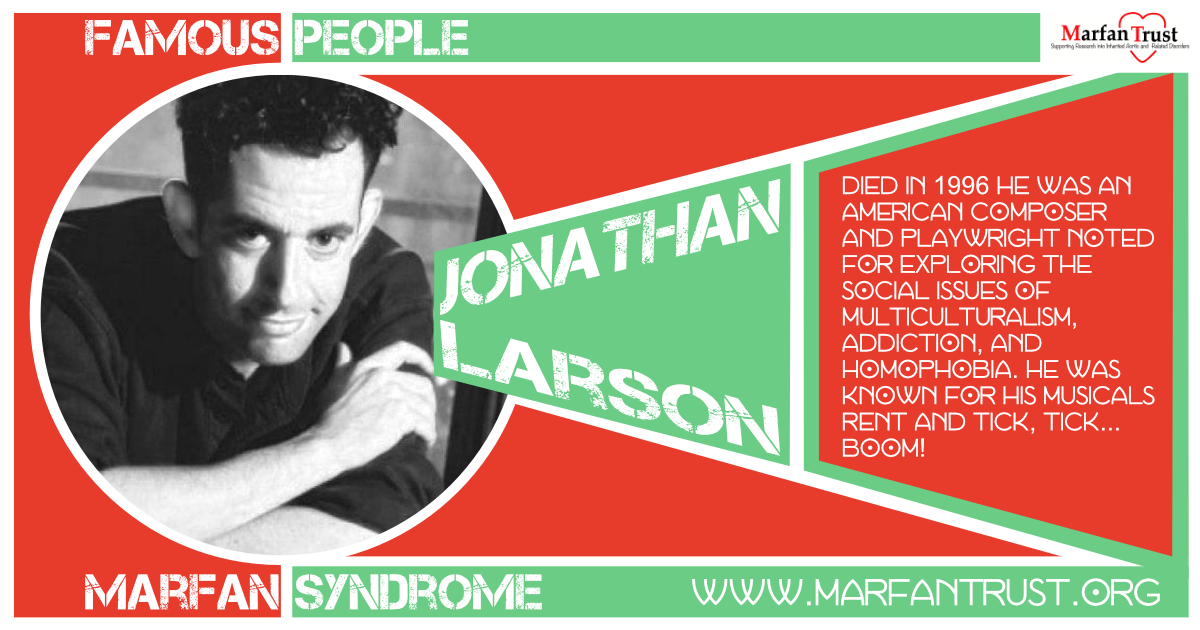 JONATHAN LARSON
The title of the oscar-nominated Netflix musical Tick Tick …BOOM denotes the mounting impatience felt by its creator, Jonathan Larson, who is in a race against time to succeed on Broadway. On the brink of turning 30 he is juggling love, friendship and a job waiting tables in New York, all while in hot pursuit of artistic success before it's too late and the world blows up in his face. Jonathan Larson eventually achieved global acclaim but posthumously for he died of a misdiagnosed aortic dissection and undiagnosed Marfan syndrome in 1996, just before his smash-hit musical Rent opened.
Prior to this he had sought help for chest pain at two New York City accident and emergency rooms. Doctors at the first attributed his pains to food poisoning. A few days later, at a second hospital, he was told he had the flu. No one had diagnosed that he had a heart defect caused by Marfan syndrome. On January 25, 1996, he died after an artery carrying blood away from his heart enlarged and ruptured. He was 35.
On 29 April 1996, the rock musical Rent opened on Broadway, winning immediate critical acclaim, six Tony Awards and the Pulitzer Prize for Drama. Sadly Jonathan Larson was not present on opening night to soak up the applause or revel in the praise. Nor could he take to the stage months later to accept his much-deserved Tony and Pulitzer awards.
Tick Tick … BOOM is his autobiographical tale now streaming on Netflix as a magical musical with Andrew Garfield.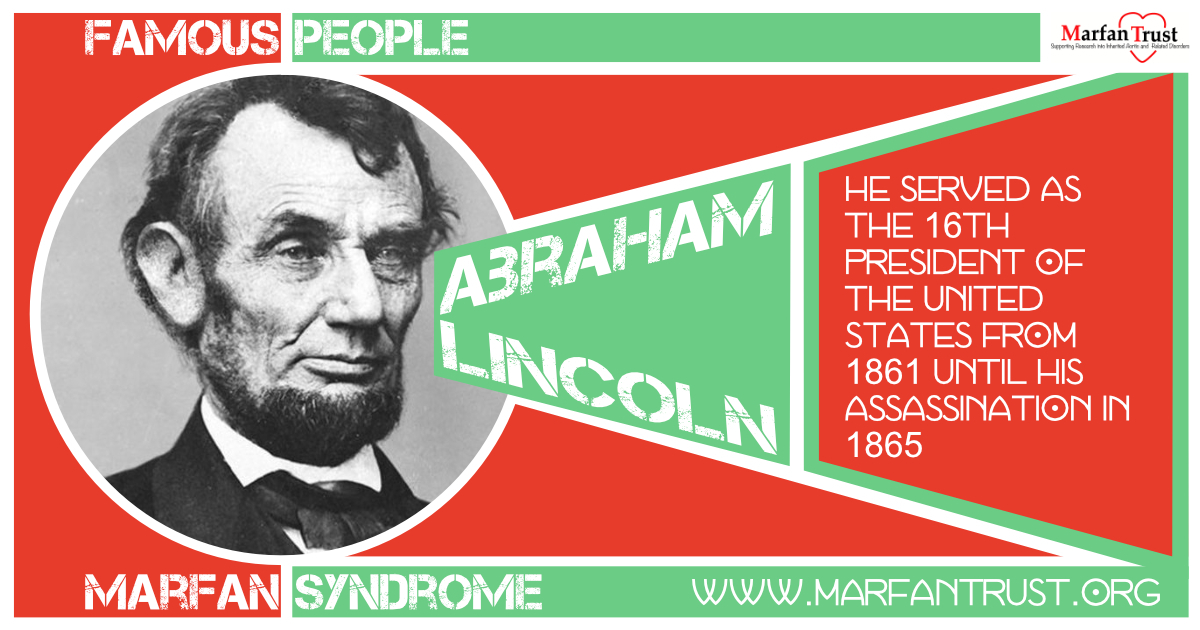 ABRAHAM LINCOLN
Uniquely stoical and supremely shrewd, Abraham Lincoln was a president of firsts. Inaugurated as the first Republican president of the United States, he was the first to issue a military draft, and the first to grow a beard. He had an unquenchable zeal for justice which some say was a remedy for his melancholia. Clinically depressed, his public work was possibly fuelled by private sorrow. Was it also fuelled by a private knowledge of Marfan syndrome? Did President Lincoln have Marfan syndrome? His physique would suggest so. But no. We think he instead had the overlapping condition of Ehlers Danlos!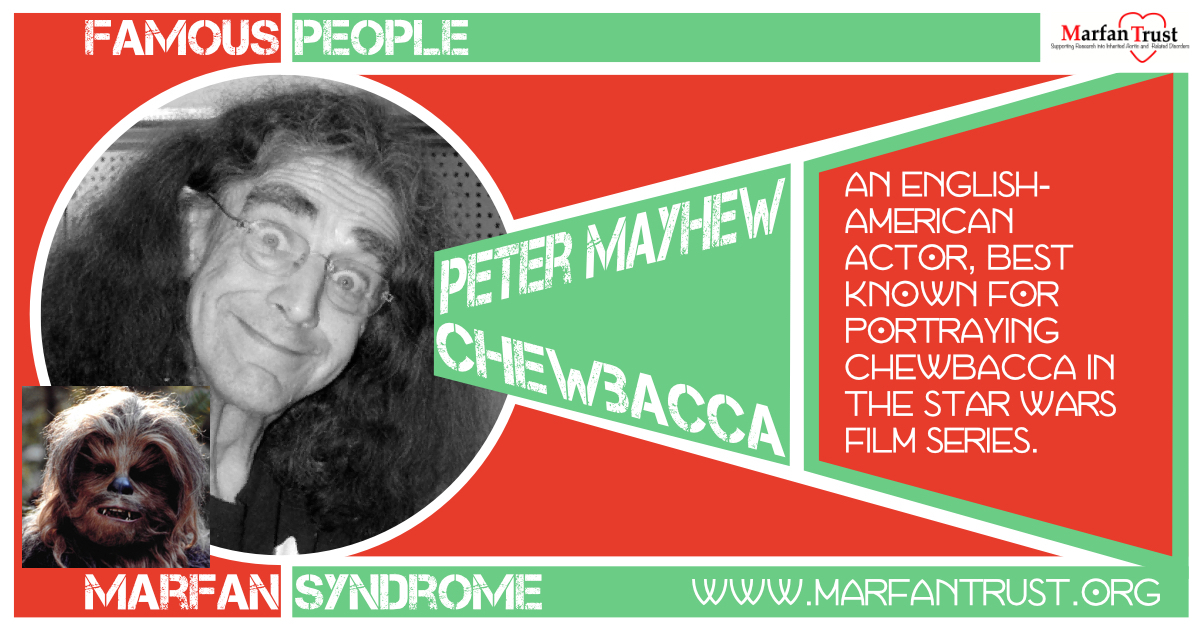 PETER MAYHEW
The defining embodiment of Chewbacca, Peter Mayhew had both gigantism and Marfan syndrome. He established overnight success as the hairy hero in 1977's Star Wars but had been waiting to happen for some time. His path to fame started 'Feet First' when his were recorded for posterity by a local London journalist, catching the attention of a film producer and leading circuitously to his defining role of Chewbacca. And, as the first screenings of Star Wars played to enraptured audiences, Mayhew was still mopping hospital floors in Croydon - he'd been using his height supremacy as a livelihood, working in hospitals as an orderly changing light bulbs. However, from 1977 he lived his life hiding behind yak hair and rescuing Han Solo in acts of derring-do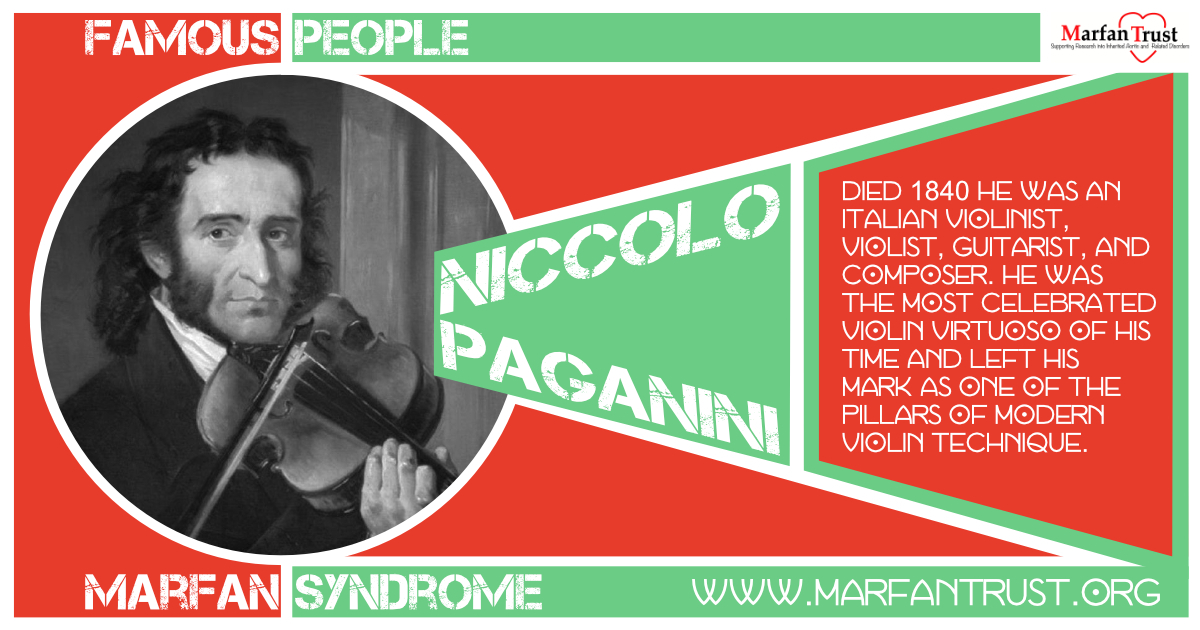 NICCOLO PAGANINI
Dubbed the witch's brat for his preternatural virtuosity on the violin, Niccolo Paganini was the original showman. His long, sinuous fingers conferred a navigational facility on the violin fingerboard that left audiences breathless and revolutionised the instrument's technical potential. Clad in black he cut a striking figure with his pale face and razor-thin frame as he played three octaves across four strings in one handspan, prompting the rumour that he was in league with the devil. It is more likely that the freedom of movement across the strings enjoyed by his hyper-extensible digits was a result of Marfan syndrome, which would not be 'described' until 56 years after his death.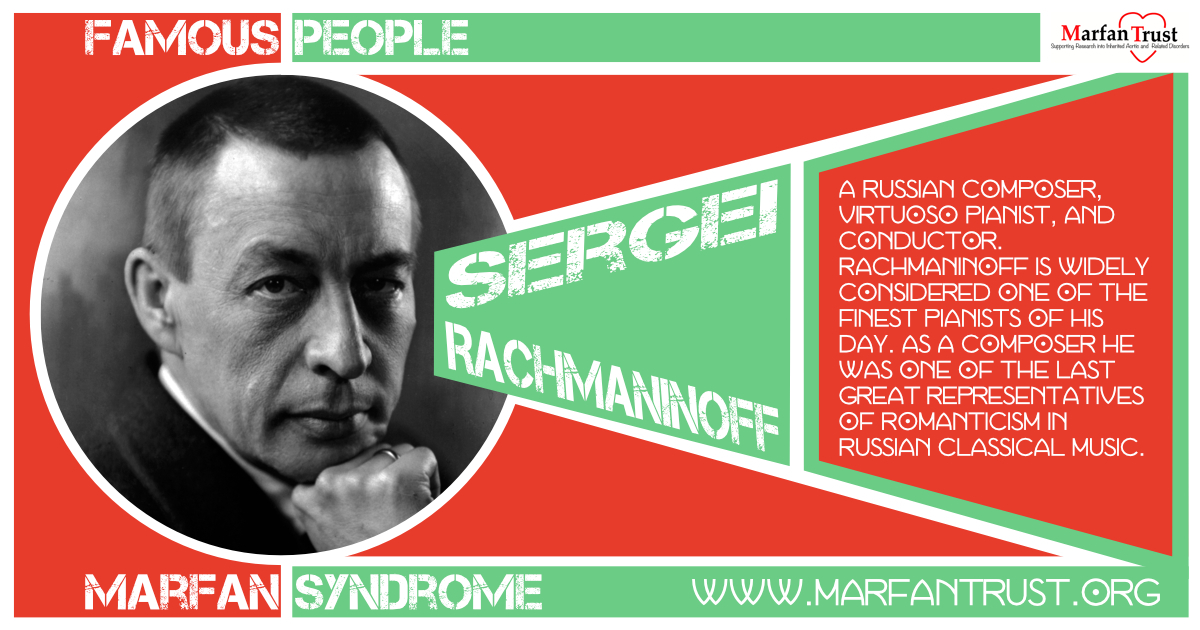 SERGEI RACHMANINOFF

A swooning swirl of lush melodies and romantic chords, Sergei Rachmaninoff's music held the world spellbound. Forever associated with Brief Encounter, the composer's impassioned piano concerto no. 2 famously swept the film's heart-rending story to its tragic conclusion. Its ominous and stirring chords require of the pianist a wide fingerspan, in keeping with the concerto's composer who was possessed of huge tapering hands that could stretch so wide they "covered the keyboard like octopus tentacles." Did Sergei Rachmaninov as is rumoured, have Marfan syndrome? Were his huge hands, so typical of arachnodactyly, a manifestation of the condition?
Whilst Rachmaninoff's appearance superficially conformed to the skeletal features of Marfan syndrome, and he had myopia, it is thought by the BMJ that he did not have the condition. He displayed none of the hard "clinical characteristics such as scoliosis, subluxated lenses, pectus excavatum or cardiac complications. Nor did he have the clinical effects of a Marfan-related syndrome such as Ehlers-Danos".
JOEY RAMONE
Shielded from the world by his mop of messy black hair and dark glasses, Joey Ramone stood tall as the heart and centre of the Ramones, the group that pioneered punk. The four band members – misfits all - were identically attired in their motorcycle jackets and distressed jeans as they performed their tough but catchy style of music. Singer Joey said "We were there for all the outcasts. We were outsiders, loners. I am an individual. I want to be who I am." Joey's melodic delivery was unique as he was himself as a person, perhaps made more so by his Marfan syndrome.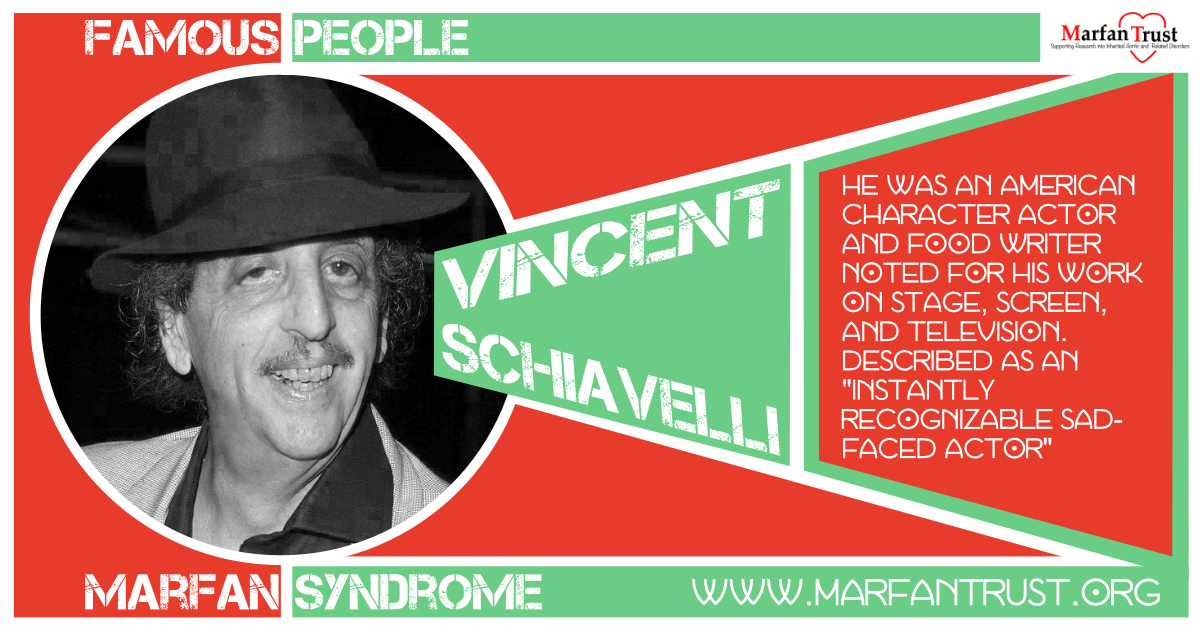 VINCENT SCHIAVELLI
Restlessly haunting the subways of Manhattan, Vincent Schiavelli's unhappy poltergeist was a minor but memorable character in the 1990 romantic film, Ghost. His drooping, doleful eyes characterised a role that evoked equal parts sympathy and fear, and saw him dubbed the sad-faced actor. From a torture-inclined baddie in "Tomorrow Never Dies" to a perpetually smoking inmate in "One Flew Over the Cuckoo's Nest", his distinctive looks left indelible impressions in many films and were the result of MARFAN SYNDROME. He served as the Honorary Co-Chairman of the Marfan Foundation in the US.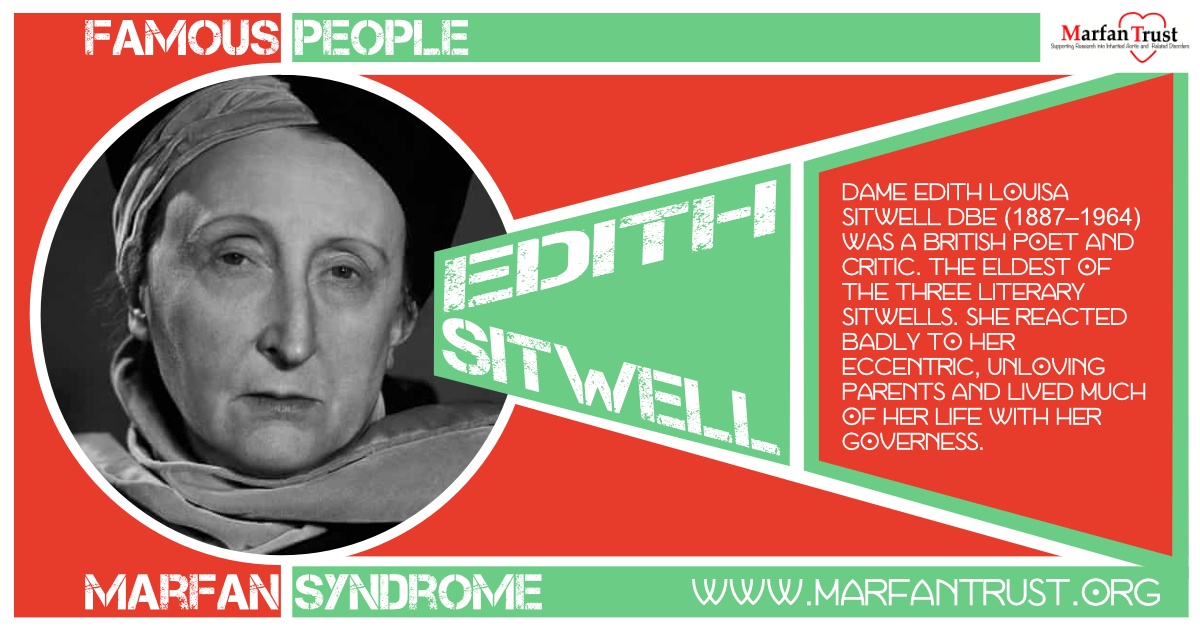 EDITH SITWELL
Her lonely loveless childhood was spent imprisoned in an iron brace to straighten her spine while her mind and imagination were allowed to roam free. Edith Sitwell was a poet and a modernist genius known as much for her strange opinions and bohemian clothing as for her writing. She shocked her aristocratic parents by being born female, and with a curved spine to boot – a result of Marfan syndrome. Her response to her distant unloving upbringing was to take refuge in eccentricity and she reigns forever as a true British one-off. Are there any poets out there in our Marfan community?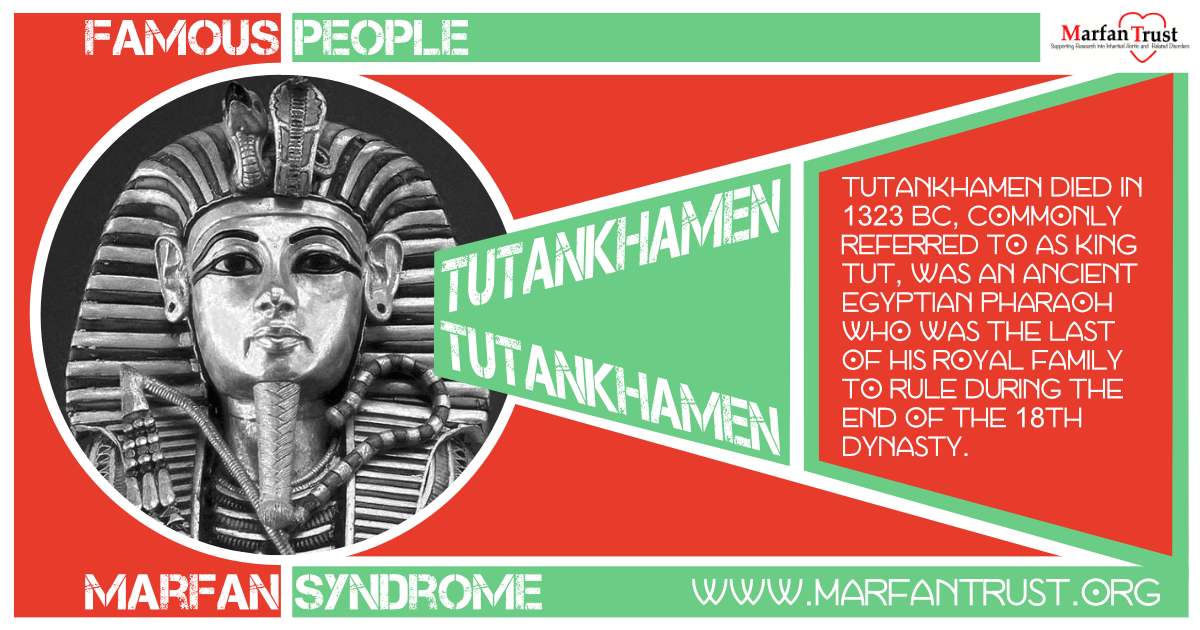 TUTANKHAMUN
A glittering treasure trove of 5,000 artefacts, Tutankhamun's tomb had been sealed for over 3,000 years before it was unlocked in 1922. The wealth of precious objects has since travelled the world while CT scans and DNA were able to discern that the tall fragile boy king most probably died of a broken leg, complicated by malaria. What can never be established is whether King Tut, as he was known, had Marfan syndrome. At only 18 years old he walked with a cane and 130 walking sticks were discovered in his tomb, to ease his passage in the afterlife. Rumours persist that he had MFS or a similar connective tissue disorder hence he's a member of our Do They or Don't They Club.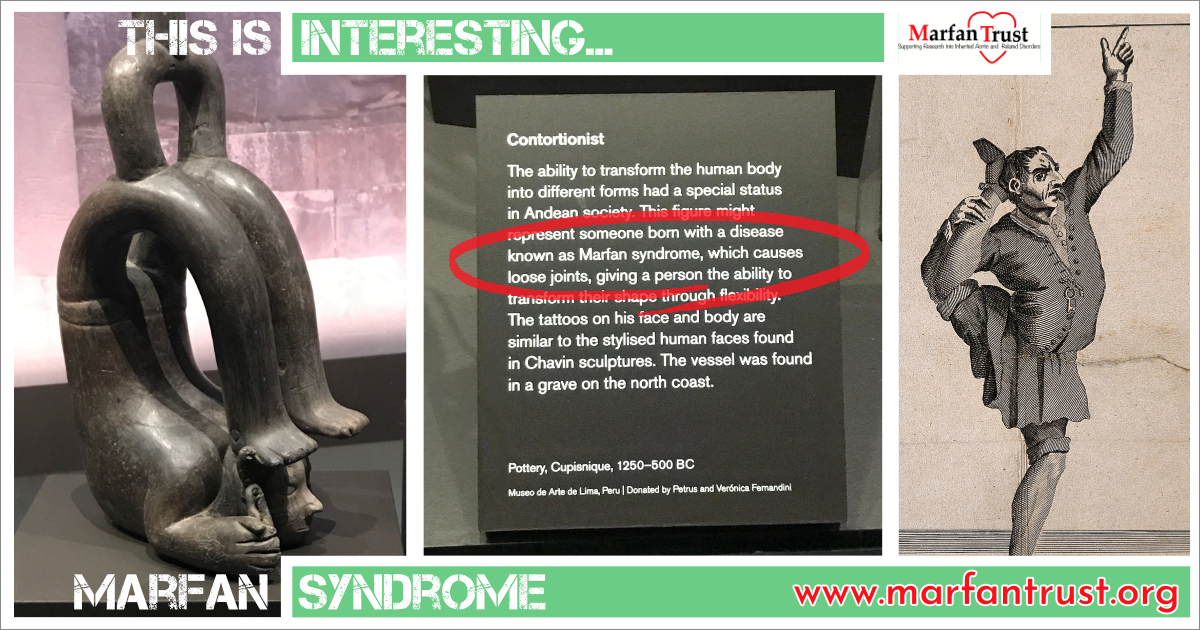 During a visit to the British Museum for the exhibition Peru, a Journey in Time; that is Peru 'before' Peru, and happened across this ceremonial vessel, inspired perhaps by Marfan syndrome.
Before the colonisation of Peru lived amazing cultures who feasted on hallucinogenic cacti, created enormous earth drawings, built sophisticated networks of roads and made lots of pottery, one of the oldest preserved pieces being this pictured object which transmutes the likeness of a contortionist into a clay vessel. It is from the Cupisnique culture "who lived on what is now Peru's Pacific northern coast. Thought to date from 1200BC, its shape is a contorted human body, possibly representing someone born with a disease that causes loose limbs and unusual flexibility – a revered ability."
Does our contortionist have Marfan syndrome, or a similar connective tissue disorder? Either way, it's wonderful that flexible shape-shifting limbs have been celebrated for ceremonial purposes!