Skip to main content
Moira has been working with the Marfan Trust since early 2017. Although initially coming in to help raise awareness of the Trust, she has also stepped in to act as temporary fundraiser and fundraising administrator at times of need. As a result she has a very good overview of the Trust and its activities.

Moira works closely with the Marfan Trust team to continue to develop the Trust's communications' strategy and help enhance its supporter relationships; the goal being to ensure the Trust's continuing solid position in the fight against Marfan syndrome.

Moira has 20 years plus digital marketing, communications and events experience gained in financial markets, the events industry and in the nonprofit arena. After a career as a published financial analyst, she obtained her MSc in Events Management from Leeds Metropolitan University and went on to run a successful event sector non-profit digital marketing organisation. Since then, she has worked with a number of charities, helping them to raise their profiles by enhancing their marketing and communications to ultimately improve their fortunes.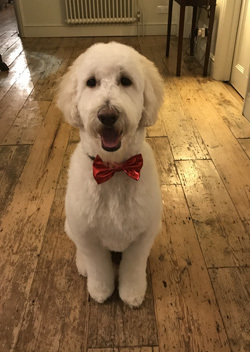 When not working, Moira likes to keep fit and to sing with Rock Choir where she is an enthusiastic, rather than a good, singer. Moira and her husband, Robert, are also the owners of Stan, a rescue Golden Doodle, who's hobbies include sleeping and running into the garden to have a bark at next door's Labrador.